I've discussed ad nauseam about the benefits of secondary suites. I won't repeat the non-financial benefits here, which I believe are tremendous. Instead, I'm going to focus strictly on the bottom line.
We'll do this using a recent example from one of my clients.
3 Ways To Benefit Financially
With a little investment of capital and sweat equity, the financial benefits of taking a single family home and adding in a legal second unit are huge. The flexibility in terms of options are also appealing.
Let's say you buy a single family home without a suite. It's essentially an unfinished financial product in today's marketplace given the cost of home ownership. Once you add in a functional secondary suite, there are 3 strategies you can employ:
Sell to a end-user homeowner who needs additional income to make ends meet
Sell it to an investor who wants a turn-key solution and cash flow
Keep it for yourself to rent out and get higher cash flow
Let's stick with items 2 and 3 and talk about the cash flow. We'll do this by considering all of the initial, design and renovation costs.
So let's start with our recent example. At this point, this house has been legally converted, passed all city inspections, and is fully rented as of November 2016.
The House At Purchase
A single family bungalow on the Hamilton mountain. Nice sized corner lot with great curb appeal. Main floor is mostly move-in ready. Basement is a finished recreational room space with a existing bathroom and bedroom.
BEFORE PICS (click to scroll through)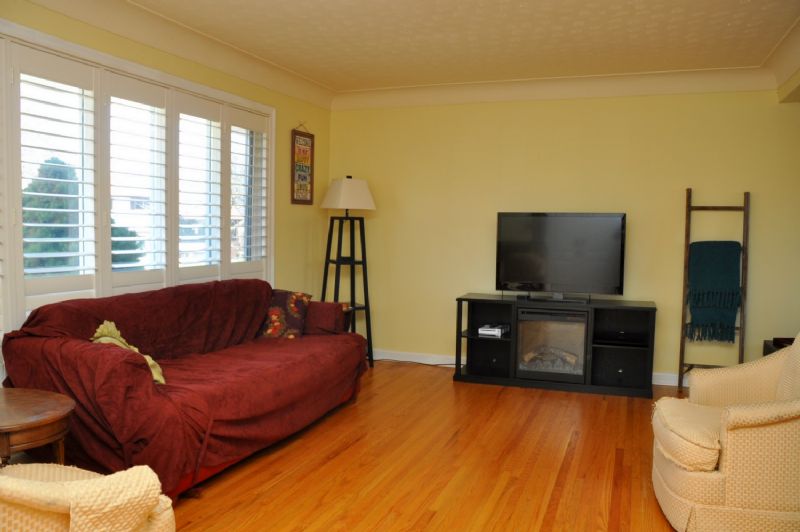 Scope Of Work Needed
We needed a new design to meet the by-laws, building codes, as well as optimal design for a secondary unit.
Main Floor
Converted 2 bedrooms back to original 3 bedrooms
Added laundry facility for upper unit
Closed off entrance to lower unit
Basement
Removal of ceiling and some interior walls
Designed from single bedroom to two bedrooms
New electrical work
New windows for egress and natural lighting
New kitchen
All new finished (flooring, paint and trim)
The Numbers
Purchase price: $385,000
Renovation and design costs: Approx. $45,000
Rental income: $1600 (upper unit), $1400 (lower unit)
"Quick and Dirty" calculation: Using REIN's goldmine scorecard for feasible properties at annual rental rates of 8 to 10%, you're at 8.37% (including reno costs) (($3,000 x 12 months) ÷ ($385,000 + $45,000))
Diving Deeper
Assume a 20% down payment on a 25 year amortization with a 2.5% mortgage rate.
Down payment of 20% would be $77,000
Mortgage amount of 80% would be $308,000
Ongoing monthly costs (remember your tenants pay for heat and electricity):
Mortgage payment: $1,379.74
Water and property tax: $350.00
Insurance: $100
Water heater rental: $20
Property management: $210
Property maintenance: $200
Vacancy contingency: $125
Net costs: $2,384.74
Cashflow = $3,000 - $2,384.74 = $615.26
Let's assume you included the design and renovation costs into the mortgage (which you can do with many available products) so you're not out of pocket up front. Your monthly mortgage payments would be $1,541.00, leaving you with a cash flow of $454. Still not too shabby.
Let's further assume your interest rate spikes to 4% (not going to happen in the short term, but let's do it for argument sake), your monthly mortgage payments would be $1,809.51, leaving you with a cash flow of $185.22 - still positive!
And this does not take into account:
Mortgage principal pay down of about $670 per month
Market appreciation (10%+ year over year) - Let's just assume a conservative 5%, which equals over $1,600 per month
Value appreciation from intrinsically changing the function of the house (this aspect is often ignored) - I've been informed by some real estate salespeople this can be as much as 15%. Let's also be conservative and assume a 5% value increase for adding in a legal secondary suite - another $1,600 per month.
Taking these into account, along with cash flow ($615), your 1st year earnings (return on investment) would be: $4,485 x 12 = $53,830
If you invested $128,000 ($77,000 down payment + $45,000 reno + $6,000 land transfer tax and closing costs), you're looking at a return on investment (ROI) of = 42% ($53,830 ÷ $128,000).
There is no way you can achieve these numbers without a secondary suite. At most you would be able to rent out your property as a single family home for $2000, which would still put you at a negative cash flow of $380 at the best case scenario.
In that scenario, your total ROI would be 32% ($41,880 ÷ $128,000). Still not bad of course, but do you really want to be out of pocket by $380 per month?
I think you know the answer to that one.
In summary, it's a no brainer to take a single family home and convert it to contain a legal secondary suite to really move the needle in terms of cash flow.
AFTER PICS (click to scroll through)
And the added value doesn't hurt either!
CONSULTATION, DESIGN & COACHING
If this is something you're interesting in doing, you can certainly contact me for consultation, design and coaching services. The fees would more than pay for itself.
As part of my service, I would be able to connect you with experienced real estate professionals and contractors who know all about these conversions. I can also connect you with mortgage professionals that can help provide the financing needed for these projects.
Thanks again for reading.